Home Styles
There are four types of homes we specialize in building—Handcrafted, Dovetail, Milled and Timber Frame.
You can also combine styles—imagine a Handcrafted Home with Timber Frame accents or vice versa.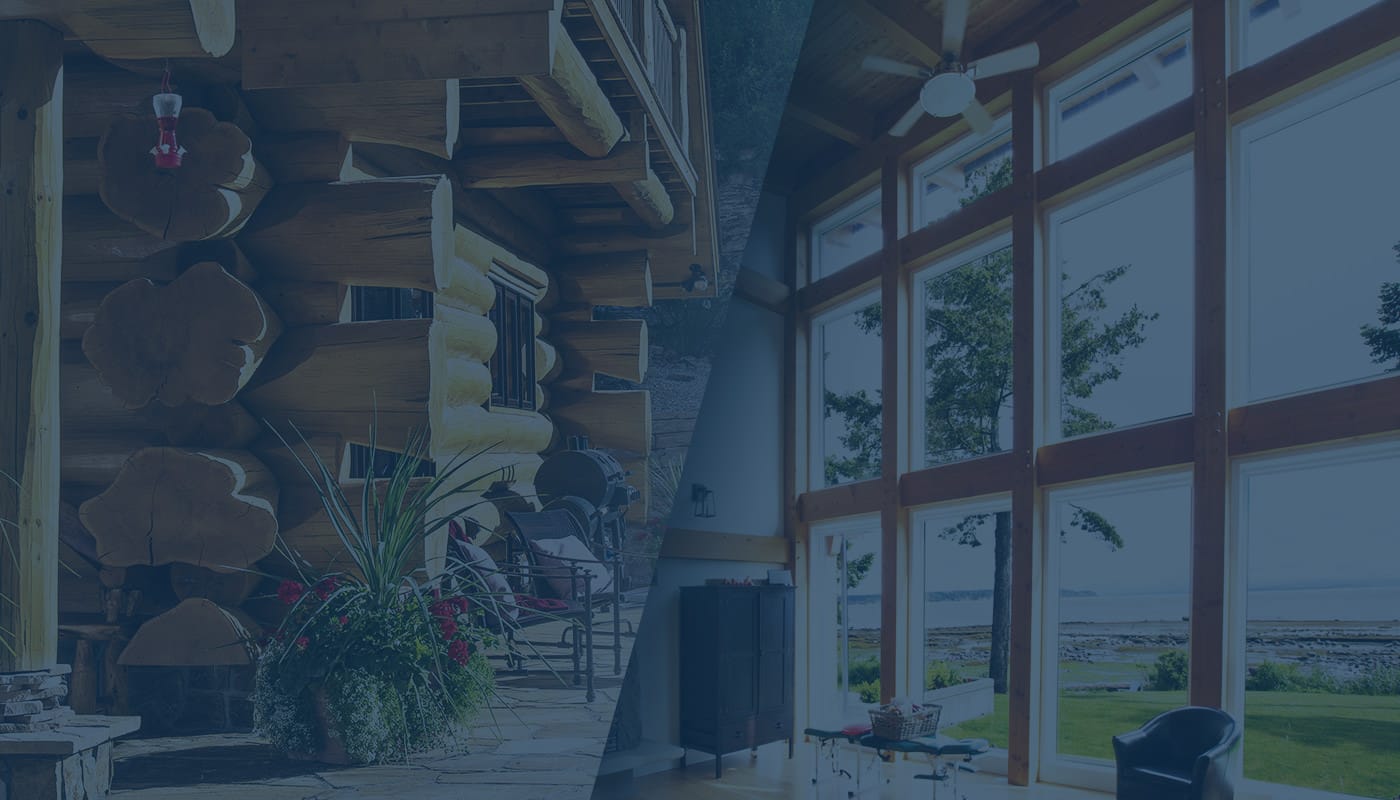 Handcrafted
Let's take a look at handcrafted homes. Our handcrafted log homes are built out of peeled logs with the idea of preserving the natural beauty and shape of each tree.
Characteristics & Features
Built by hand
Mortise and Tennon joinery
Each tree meticulously harvested for its beauty and character
Each log carefully selected for its location in the home
Large-diameter logs
Tapered logs (the natural contour and shape of each tree)
Flared ends or bottoms
Curved or bent logs
Draw-knife or our unique Latewood finish
The presence of natural characteristics, such as: knots, burls, compression wood, etc.
Log truss work... We use a variety of log truss configurations for visual appeal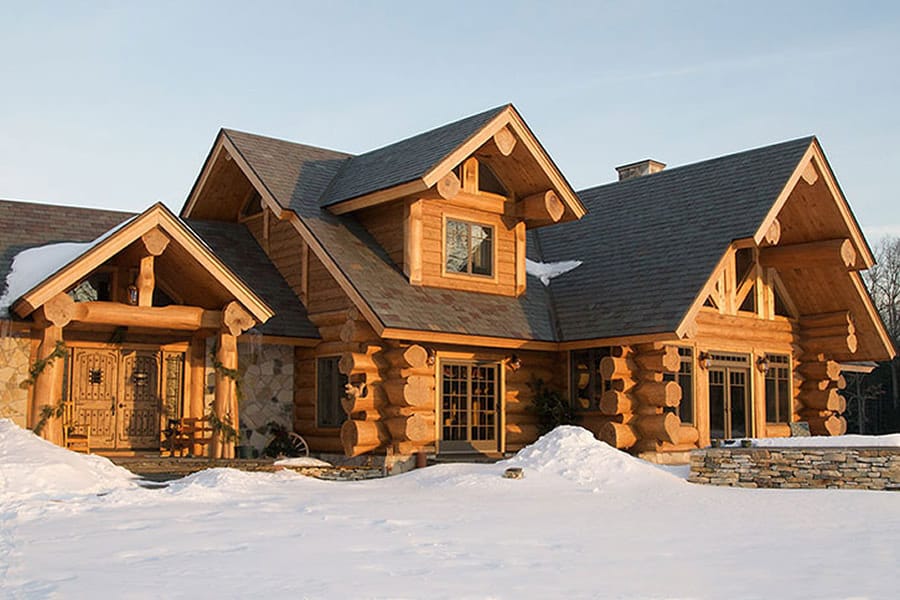 Full-Scribe
Full-Scribe log joinery is the oldest form of log home construction. Its techniques are thousands of years old and have remained virtually unchanged. However, today we use modern cutting and shaping tools, like chainsaws and planers, to achieve the desired results. With Full-Scribe, logs are stacked horizontally on top of each another to construct the log walls throughout the home. This includes some interior walls, if so desired. The walls intersect at interlocking saddle or diamond-notch corners. Many of our homes have flared ends that are staggered to create stunning architectural interest—what we call, "the Wow!"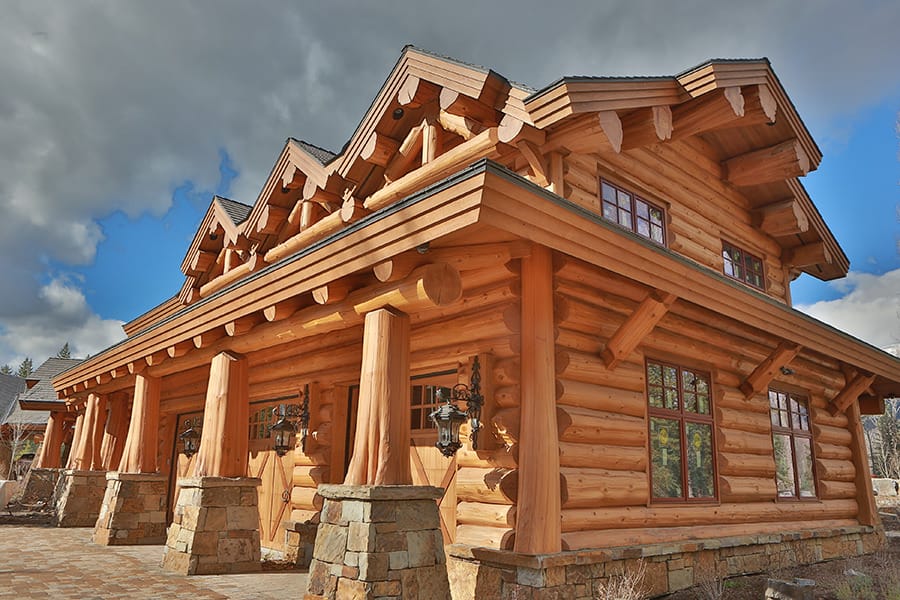 Piece en Piece
Piece en Piece is essentially the same as Full-Scribe, but rather than interlocking cross corners, log walls terminate to a vertical log post. This type of log construction works well with designs that require minimal settling.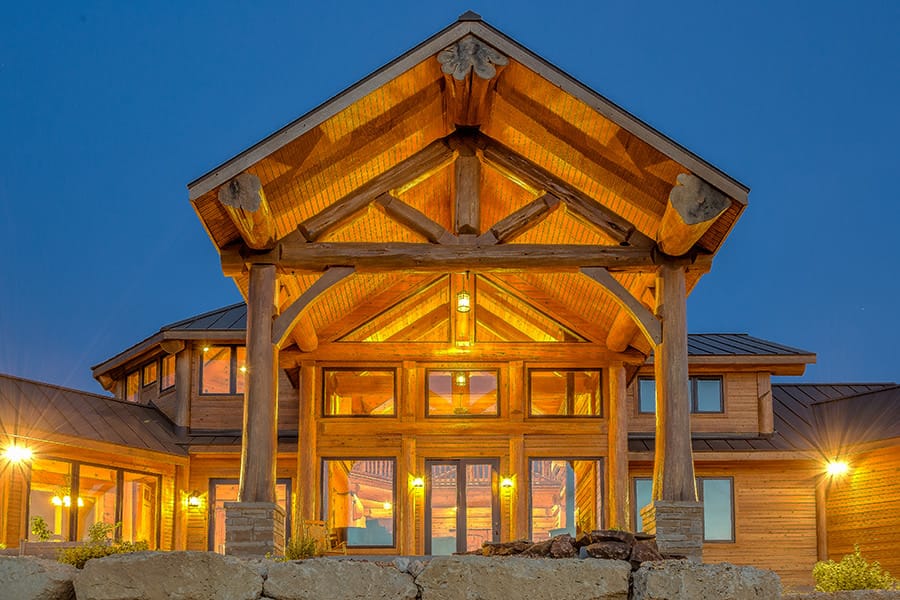 Post & Beam
Post & Beam is constructed like a Timber Frame structure, but in place of square timbers, round logs are used for the structural framework of the building. Conventional framing materials or Structural Insulated Panels (SIPs) are used to fill in between the log wall posts. Exterior walls are often covered with a wood siding or stucco, and the use of natural or cultured stone accents can help add rustic beauty to the finished home. Log Post & Beam is a great way to have a log home with unparalleled interior design versatility. Mix different interior colors and textures to accent the log work.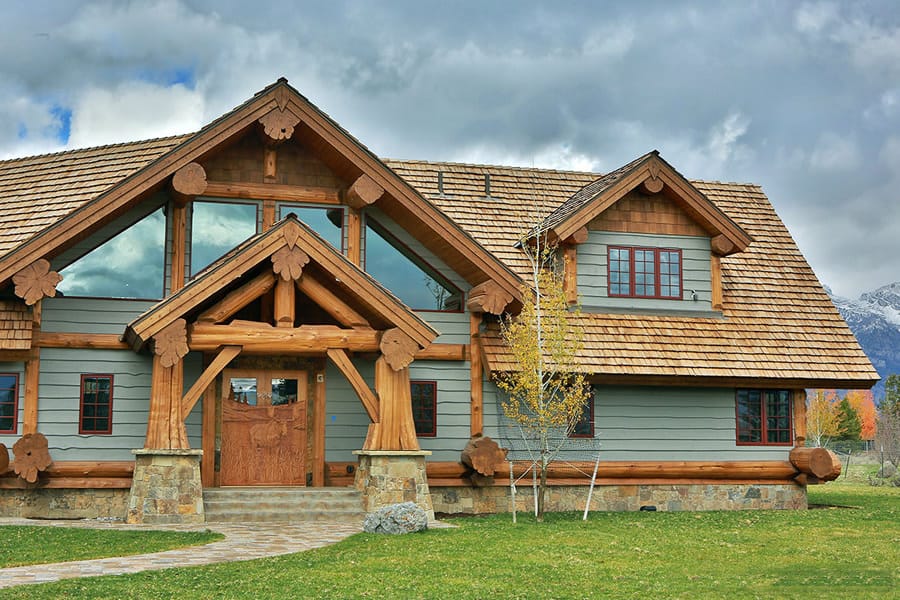 Fusion/Hybrid
A new term being used in our industry is "Hybrid." First, to us, this means different building styles are combined to create a unique home.
Fusion is a blend of Full-Scribe and Post & Beam styles. Envision a Post & Beam style home, with a few rows of horizontal logs at the base of the exterior walls.
Now, also imagine one of our Full-Scribe, log Post & Beam or Fusion style homes with Timber Frame elements in the great room roof or entry way. Or, how about a Timber Frame home with log posts and beams used for character pieces in highly visible areas.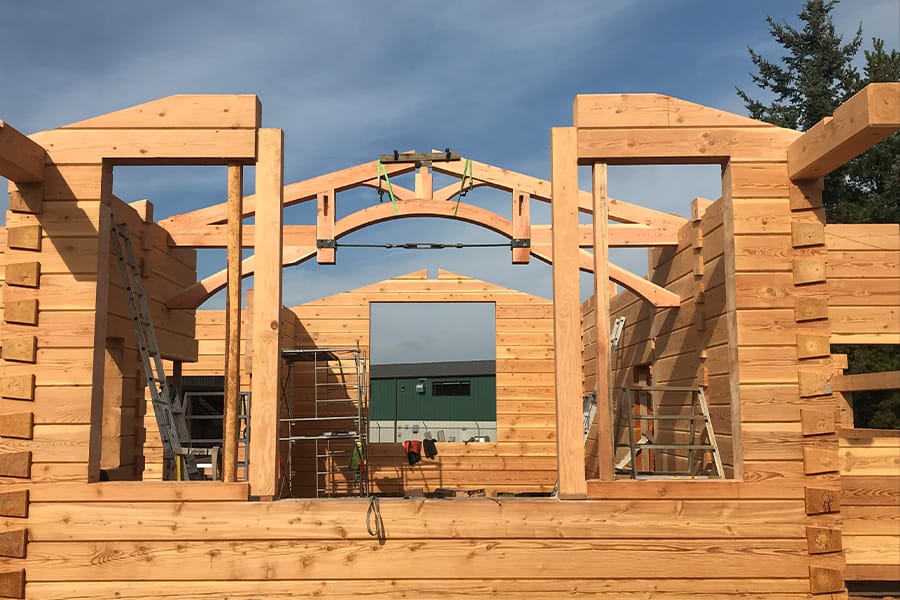 Dovetail
Our Dovetail log work is in the tradition of the timeless Swedish style with some distinct differences:
Precision hand-crafted Dovetail joinery
We use full-length logs so there are no butt joints
Wall log size is 12" high by 10" wide
Available in Douglas Fir or Western Red Cedar
Non-settling Summit Static Wall System
Chinking is not at all necessary, but can be used cosmetically if desired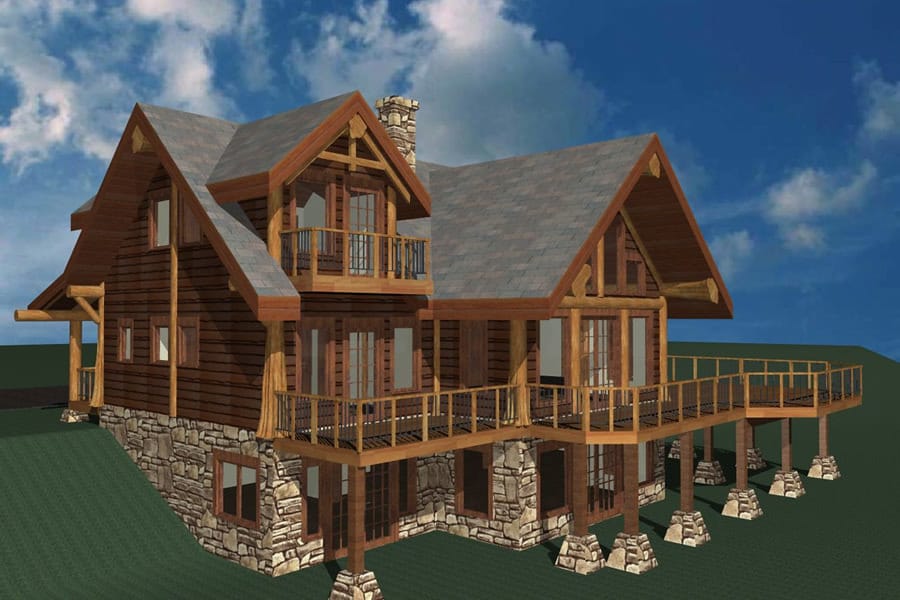 Hybrid Log or Summit Mountain Retreat
Our Summit Mountain Retreat style is a "Hybrid" log home.
"Hybrid," in this case, would integrate log construction elements with conventional stick framing. Picture a beautiful stick built home with a log entryway and log truss work with beams or rafters in the roof.
The Summit Mountain Retreat/Hybrid style is designed with a limited budget in mind.
Hybrid style features log accents used in areas where they will have maximum visual effect.
Milled
Milled log homes use timbers that have been machine cut to make them consistent in size and appearance.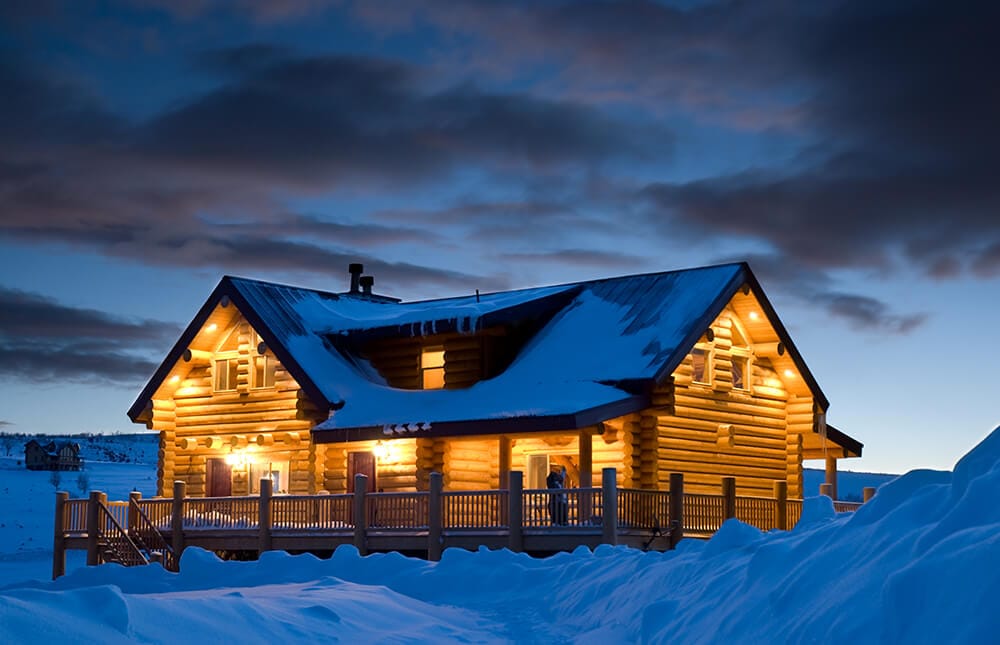 Characteristics & Features
Machine cut to consistent size and appearance—wall log diameters: 10", 12" and 15"
Dry standing timber—19% or less moisture content
Wood species: Spruce, Pine and Douglas Fir
"Hand hewn" or smooth log finish
Full-round and "D"-profiles
TP graded
Swedish cope profile
Blue Max log fasteners
Precision saddle notch corners
Sashco Log Builder sealant supplied for the laterals and saddle notch corners
Full length wall logs to minimize butt joints
Half-log siding available
We're not your run of the mill log home company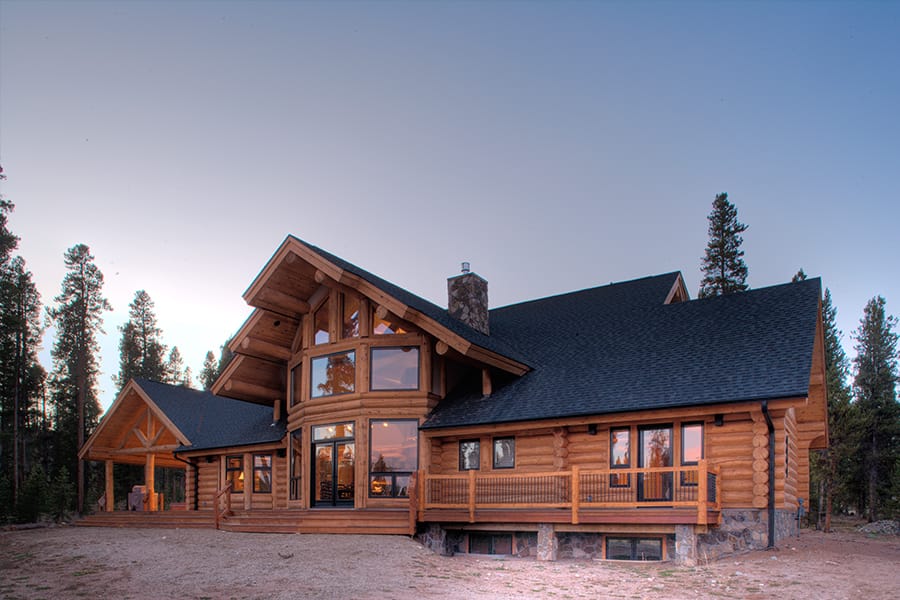 Our Industry-Exclusive Pre-Stacked Milled Log Package
The most complete and detailed milled log work on the market today. Even if you don't have access to an experienced log builder, our pre-stacked package will give you professional results. Like our handcrafted log homes, we pre-build the log work to ensure completeness and accuracy. No other milled log home company pre-assembles their log package before it's shipped. This attention to detail avoids costly problems that are otherwise not detected (like miss-cuts or missing logs) until you assemble the package on your site.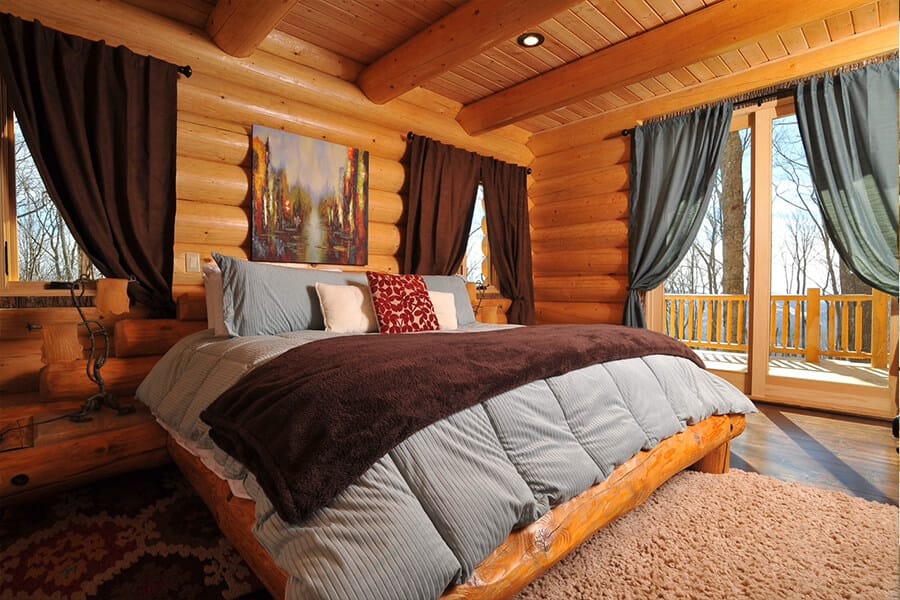 Windows cut to finished sizes and with bevel cuts; trim details and drip edges pre-cut
Doors cut to finished sizes with bevel cuts, and trim details pre-cut
Slip joints cut in around windows and doors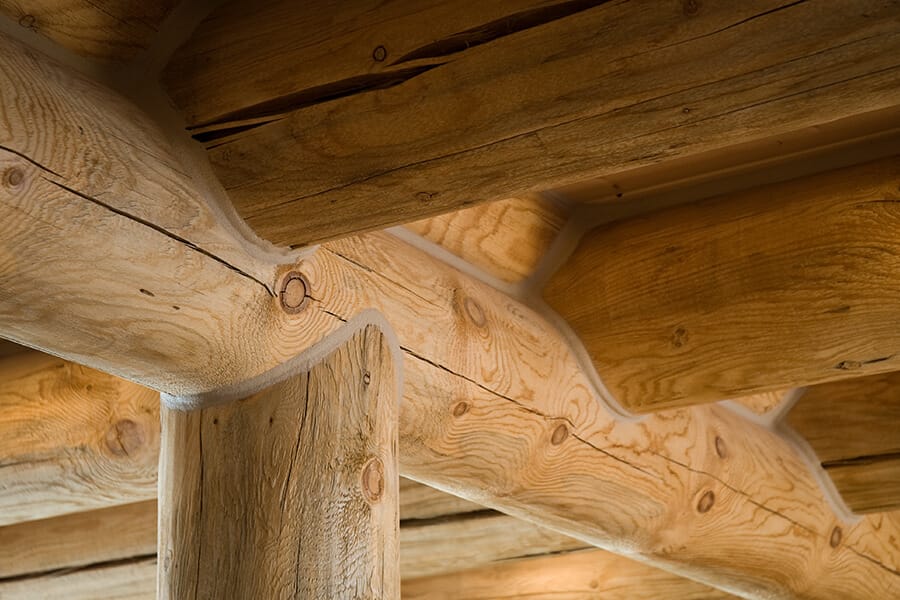 Log walls drilled for electrical chases, electrical boxes cut, and logs flattened at electrical boxes to properly fit trim plate
Wall logs notched for log stringers and log floor joists
Log posts notched to accept log beams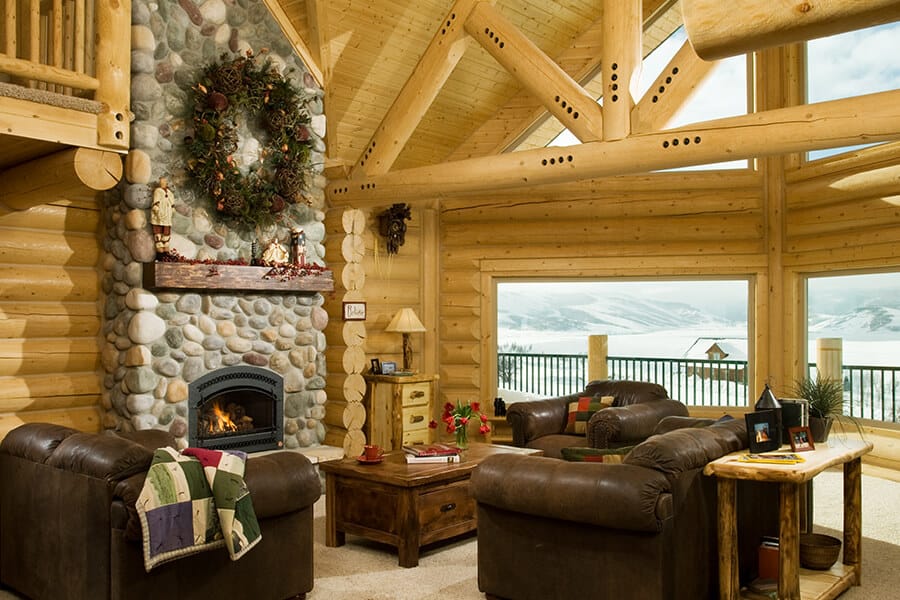 Log posts flattened (where needed)
Log floor joists flattened to receive finished decking
Log ridge beams, log rafters, and log purlins flattened to receive finished decking
Pre-build log trusses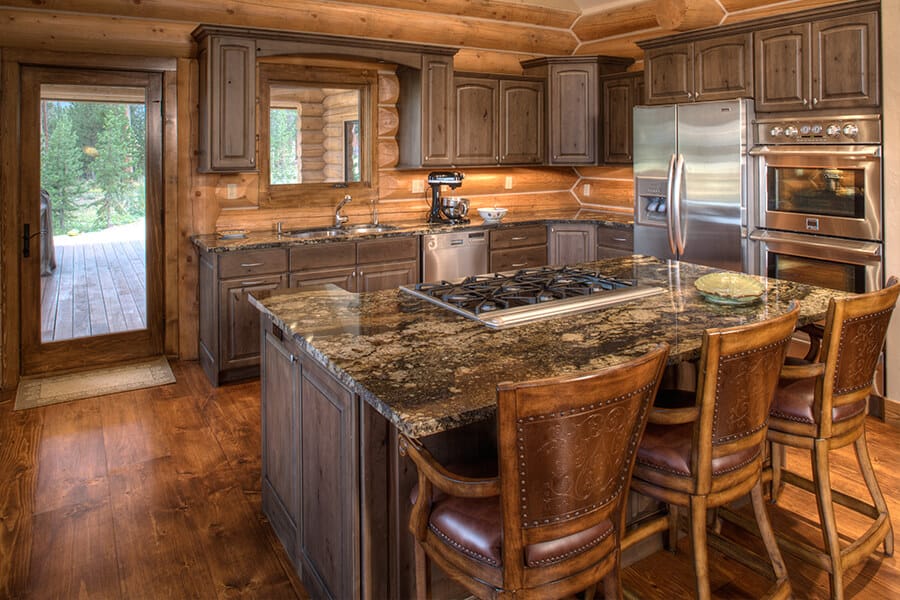 Cut archways
Swept corners pre-cut
An experienced log builder to supervise the log stacking of your home
Ongoing technical support before and after the log stacking
Timber Frame / Hybrid Timber Frame
At Summit Log and Timber Homes, Inc. we carry on the tradition of old-world craftsmanship in each heavy timber project we complete. Every client's project receives first-class design work, premium materials, high-quality manufacturing and professional installation supervision. Rest assured, our attention to detail and care is the best in the industry.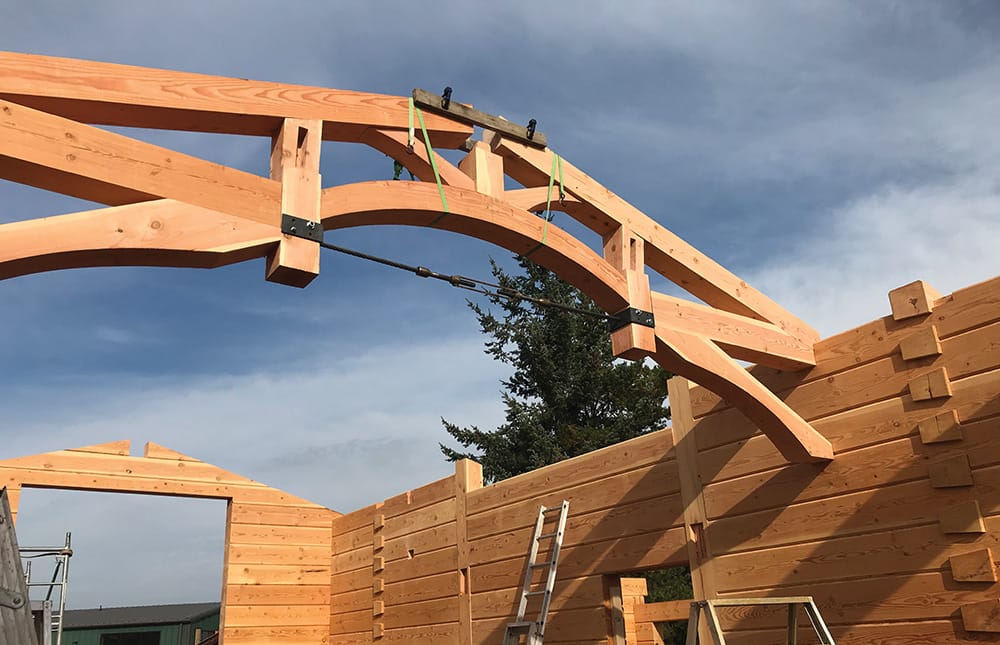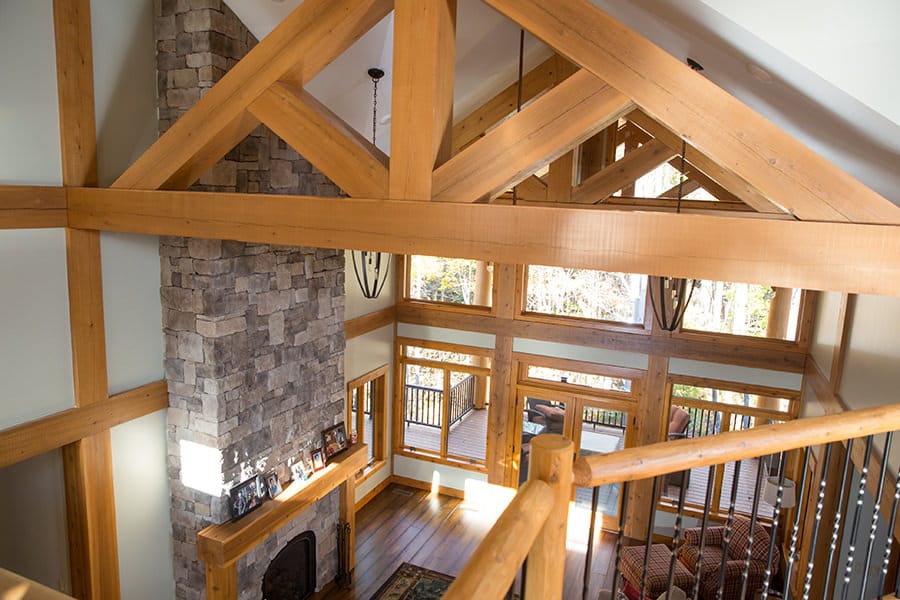 Design & Logistics
For every project, our drafting team creates 3-D concept designs for quoting purposes, followed by fully developed construction plans and production drawings for approval before any piece of wood is cut. We work with your general contractor to ensure that all measurements are accurate and you receive materials that install smoothly and fit properly.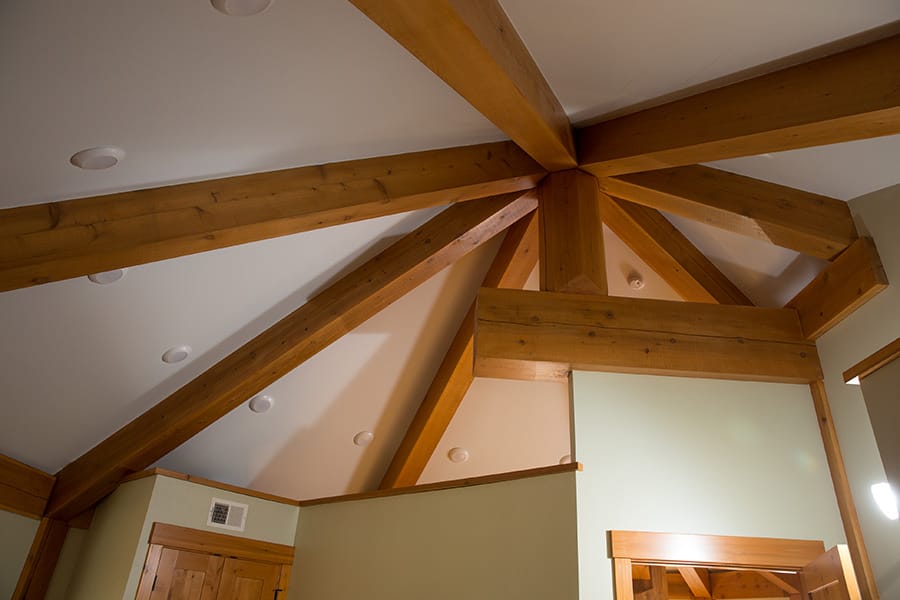 Joinery, Test-Fitting & Installation
Our craftsmen cut and test fit each structure to ensure each joinery connection fits properly, before it is shipped. Each connection is clearly labelled, both on a set of plans and on the pieces. When your builder installs the package one of our tech reps will be there to guide the way.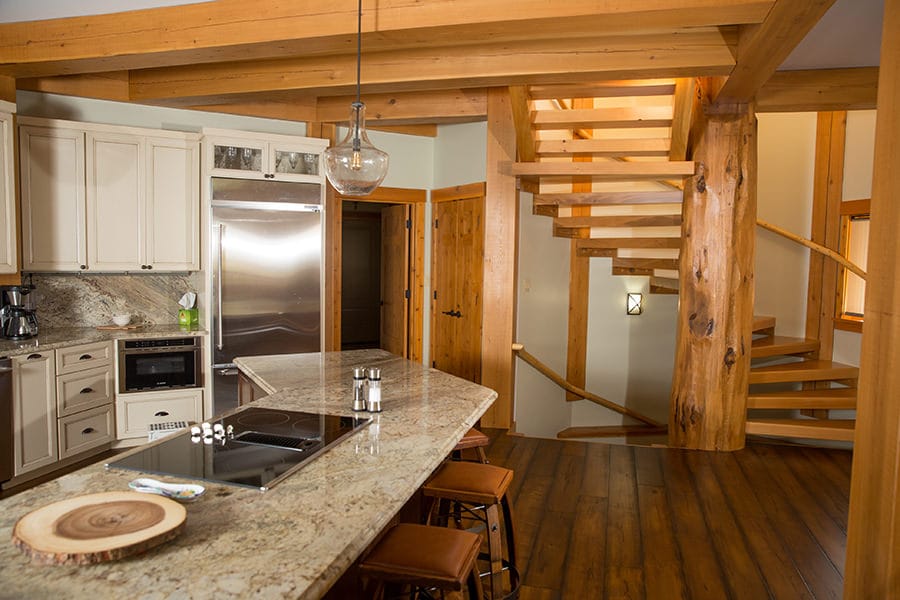 Wood Types
Located on Vancouver Island, BC we have access to an abundant supply of premium quality timbers. We offer Douglas Fir, Western Red Cedar fiber in No. 1 to clear grades. We can provide free of heart center (FOHC), which minimizes checking and twisting of the wood. The result is an enduring and beautiful home.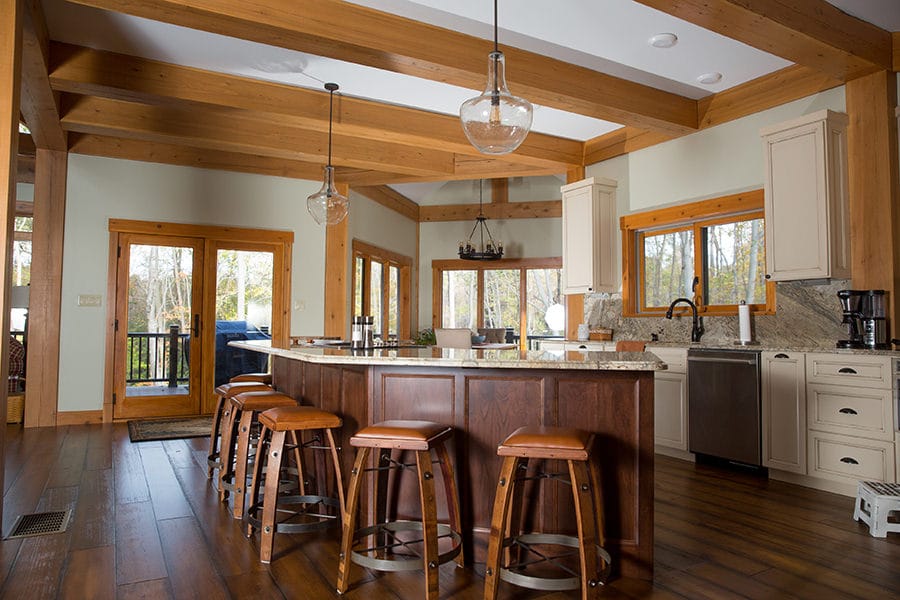 Timber/Timber Frame Construction
Summit Log and Timber Homes, Inc. provides any level of delivery needed—from raw timber supply to a fully assembled structure. Although we regularly work on high-end residential Hybrid Timber Frame and Timber Frame applications, we are able to deliver projects on any scale—from simple cosmetic details (e.g., Hybrid Timber Frame) to structural timber frames. For both applications, we can provide SIP (structural insulated panel) engineered wall and roof systems.